Who we are
Welcome to All That She Wants Boutique
​Or ATSW for short because who has the time right?
 I founded this company because of my love of fashion. But my love has also become expensive and is taking away from other things, like food and you know basic life type things. I wanted to find the brands and styles I loved but still be able to eat and pay for coffee and Netflix.
​I go hunting for the best brands around. I find new and gently used to fit in the budget and get you out the door in perfect economic style:) 
​Customer service is key so for any reason you are not happy please reach out and I will make it right. 
​Thanks for shopping with us and don't forget to send us your style pics to win a gift card to buy more stuff!
​Thanks Ladies,
Amy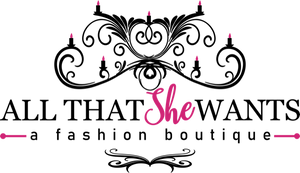 CLOSET BUYS
If it is time for you to clean out your closet, why not make some cash!!
​ATSW is always looking for new and like new clothing, shoes and accessories.
​If you live within 100 Miles of Orlando, FL we would love to buy your items.
If you live outside of the area and would like to sell to us please send us an email at info@allthatshewantsboutique.com and we can work out how to get your items.
​Buy clothes, sell clothes , get cash, buy more clothes. It's a beautiful thing!!
GIVE BACK
Are you a group looking for fundraising ideas? 
We here at ATSW are always buying clothes. If you would like to do a clothing drive and have our team come and pay cash for your groups new and gently used clothing, shoes and accessories, Please email us for more details on this easy way to get a donation for your great organization. All items will be considered and everything we just can't accept we will donate the rest on your behalf to a program of your choice.
We are now accepting fundraisers for September/October 2022. Reach out today for more info and let us know your groups name and when you would like to schedule a clothing drive. We will help you get started.
Info@allthatshewantsboutique.com
We cannot wait to hear all about your amazing groups.
xoxo 
Amy